Directed by Christopher Sivertsen and written by Ilana Turner this performance has been in the making for years. It is now playing at Bootleg Theatre in LA to great reviews and with an amazing cast and crew.
 "O Réjane.. artfully evoked by Ilana Turner and Christopher Sivertsen.The production is ingeniously staged with the use of five free-standing screens on wheels (designed by Alex Berry , whose costumes are equally impressive)- which Sivertsen employs with dazzling effect, .. (The can-can sequence performed exuberantly.. is a knock-out.).. a superb cast" Read more in Stage Raw
"Under Christopher Sivertsen's direction, the cast give a united and dynamic performance that ebbs and flows and grips the viewers throughout its roller coaster journey
.
Don't miss this vibrant show."
Read more of this great review in
ArtsBeatLA
"The physicality of the play is astounding. Between the constant set restructuring, Can-Can dancing and hot sex, you really feel like you've been through something important by the end of the play. Review from Paula Tiberius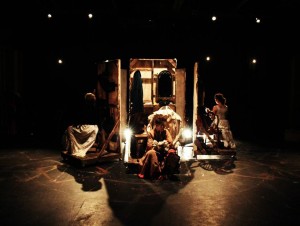 Set and costume design Alex Berry