Awake Me UP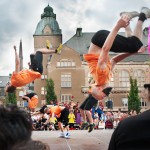 Awake Me UP is a culture- and development project that is made in the city where our main office is located, Västerås, Sweden.
Our aim is to create a show for the annual "City Festival" on the 28 of june 2014 in the main square right here in Västerås.
The purpose of Awake Me UP is to gather the people in and around Västerås with eachother and the world in a colorful and emotional show, where everything and everyone is welcome to join. This year the main theme is Human Rights and we've chosen to put the focus in Womens Rights.
Follow our progress on Facebook: Or Twitter: Or send us an email if you have any questions:
You can read more about last years show here below:
"A  CULTURE COCKTAIL THAT BLASTED THE 'SQUARE' "
The 29th of June at 19:45 the main square of Västerås exploded in a feast of joy. 300 performers from all genres of society came together to give an original and gigantic show with music, dance, action, acrobatics, fireworks and media. Awake Me UP made use of the surroundings with action taking place on 3 main stages, whereof one was on the roof of the adjacent shopping mall IGOR. Live feed of the actors, dancers and musicians were seen on two massive LED screens and the feed was shown LIVE at 5 cinemas across the region. Never before has anything similar been attempted in this spot. 3000 people came to revel in creativity and the joy of seeing so many work together for them!
Get the latest updates on Awake Me UP or email info@awakemeup.com
https://www.facebook.com/AwakeMeUp

Photos from photographer Linnéa Pettersson
To share this link: http://awakeprojects.com/what-we-do/events/awake/