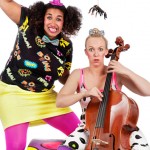 28 October 10:00
Book your tickets at www.trixteatern.se
A show about friendship and courage. 
Through song and laughter, we follow the clowns Honkan and Hanneluring when they embark on a hunt for adventure. A humorous performance about fear and curiosity, courage and friendship. With the help of vocals, a cello, storytelling and acrobatics, the kids are taken on a fantastic journey where prejudices are broken and new doors opened.
This is a performance that breaks the norm of gender roles and preconceptions. Things are not always as they appear to be, the greatest is not always the strongest. Courage may be admitting that you're scared. The children are integrated into the show in a pedagogical way and helps to bring the story forward.
(Photo by Linnéa Pettersson)