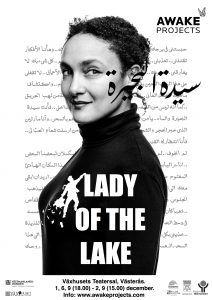 En advokat med alldeles för många
#metoo
ärenden på sina axlar och tre väsen ur legenden om Kung Arthur och Lady of the Lake.

Vad har de med varandra att göra?
En kvinnlig kraft som hållits under ytan är på väg att bryta fram och vi placeras i gränslandet mellan två världar.
Följ med på en tankeväckande resa där saga möter verklighet. En mytisk familjeföreställning med musik, rörelse och dramatik på både svenska och arabiska.
9/12 kl. 15.00 och kl. 18.00
KÖP BILJETTER hos Kulturbiljetter
SPELPLATS: Växhuset, Västerås
MANUS: Amanda Högberg och Conny Petersén
BASERAT PÅ EN SAGA AV: Ola Wauge
MEDVERKANDE: Hanna Björck, Maria Sendow, Mustafa Alshihawi & Magnus Jacobsson
REGI: Christopher Sivertsen
LJUSDESIGN: Guillaume Pissembon
REGIASSISTENT: Johan Bark
DRAMATURG: Kerstin Helsing
Skådebanan, Växhuset Västerås, Västerås stad, Region Västmanland